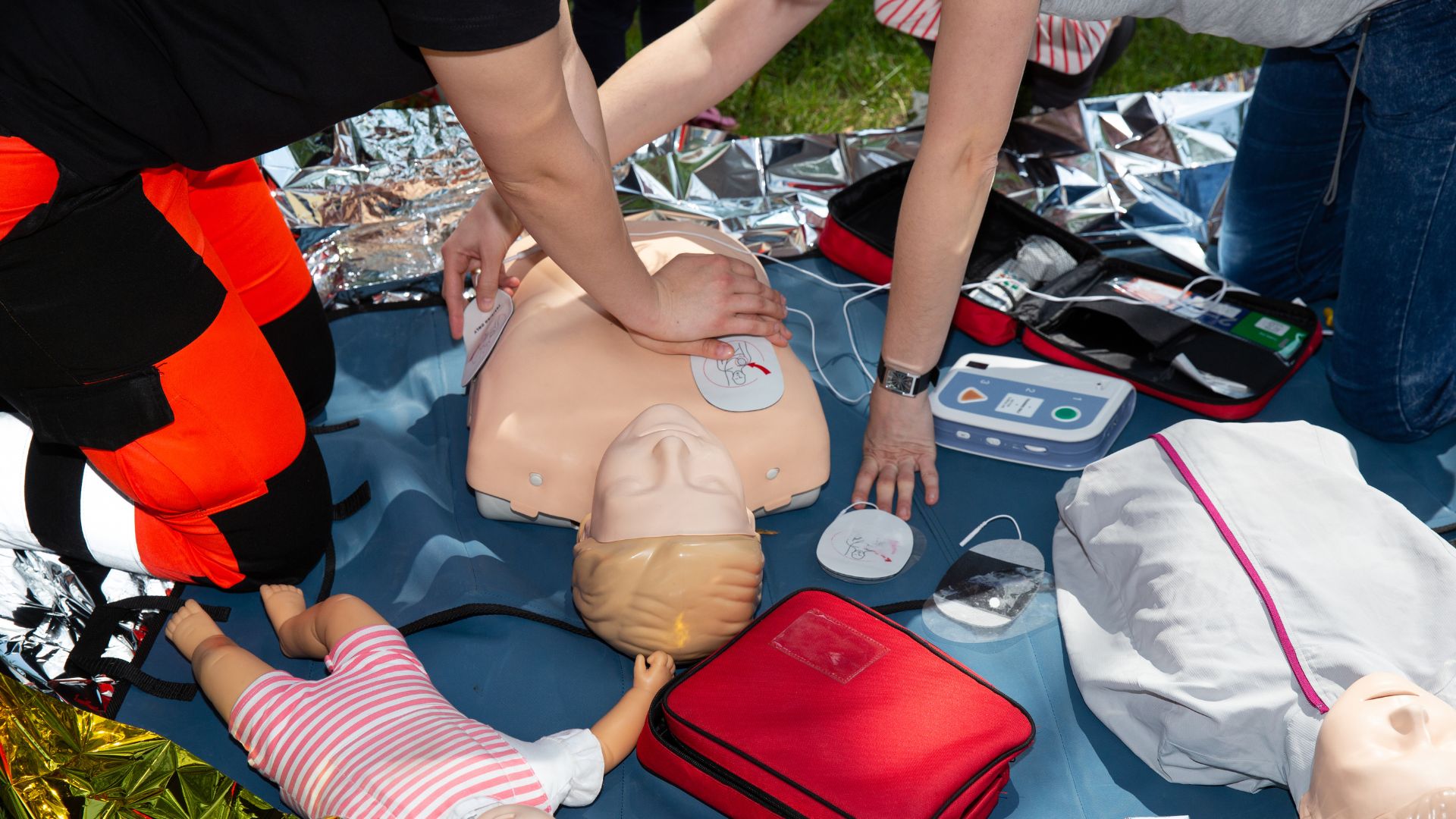 A staggering statistic by the American Heart Association shows 88% of all cardiac arrests happen at home. With such an alarming number in mind, it's no surprise more and more Americans are turning toward cardiopulmonary resuscitation (CPR) as the go-to lifesaving technique.
In the U.S., health organizations are urging civilians to learn basic CPR and learn how to handle an automated external defibrillator (AED). Fortunately, there are a number of AHA-accredited establishments offering a selection of CPR classes in Lanham, Maryland.
So, what is the average cost of CPR certification classes in Lanham? Scroll down to read more about what to expect from a CPR class in Lanham, as well as what impacts the overall cost of the course. In addition, we'll shortlist some key points to look for in a CPR class.
What Affects the Average Cost of CPR Classes in Lanham?
Before you sign up for a CPR class, you should know that not all CPR classes are the same and cost the same. For instance, you have your basic CPR class, a CPR + First Aid class, a BLS/CPR for healthcare workers, a CPR/AED/First Aid class, and so on — all of these include different topics and learning materials, so the costs are different.
Let's have a closer look at the different factors that condition the cost of CPR classes in general:
The Level of CPR Certification
In essence, CPR training is divided into four categories, i.e. certificate levels: A, B, C, and BLS. Level A is the essence of CPR: it teaches basic CPR skills and what to do in the event someone falls into cardiac arrest. Level B CPR is a CPR certification designed (and mandatory) for nannies and babysitters (parents are also encouraged to know Level B CPR). Moving on, Level C CPR teaches more advanced CPR techniques and is intended for professionals in the firefighting industry and police officers working in the field.
If you're training to become part of medical staff, you won't be able to work as such if you aren't certified in BLS or Basic Life Support. In essence, BLS is a must for first responders, healthcare workers, public safety professionals, and other employees in the healthcare industry.
A BLS class teaches you how to act in the event of respiratory distress, cardiac arrest, and/or obstructed airway. BLS and CPR go hand in hand — you can't be accredited in BLS without knowing how to perform cardiopulmonary resuscitation (CPR), how (and when) to implement defibrillation using an automated external defibrillator (AED), and so on. With the lifesaving skills of CPR/BLS, you can help a victim of any age.
The Type of CPR Program
You can find different CPR programs in the state of Maryland. In fact, authorities have categorized CPR classes into courses teaching CPR for adults and children under 12 years old, and courses teaching CPR for infants. The reason behind this is that even though the number of compressions is the same (from 100 to 120 a minute), the force used to perform the compressions is different, as is the CPR technique (rescue breathing, chest compressions).
Other than CPR for civilians, there's also another type of CPR designed for professionals as part of their emergency medical services (EMS) training. These include nurses, assistants, physicians, and paramedics, to name a few. Depending on the course provider, this type of CPR is typically the most expensive, simply because it requires the use of more learning materials.
The Location of the Course
The location of the CPR course in Lanham is also a factor that influences the cost of the certification process. Today, CPR classes can be attended in person, fully online, or through a blended learning model.
In general, attending a class physically will cost more than doing so online, simply because of the learning materials and the limited seats available for attendees.
The Learning Materials
Usually in the form of hard-copy books and pamphlets, the learning materials needed for passing a CPR course are a huge factor that determines the overall cost of the course.
Flashcards, medical dummies, handbooks, and manuals all comprise necessary CPR learning materials that need to be purchased (except the dummies that are supplied by the course provider).
Average Cost of CPR Classes in Lanham: A Head-to-Head Comparison
As we mentioned, there are several factors that impact how high (or low) the cost of a CPR course is. Besides, the service provider you choose to deliver the course will also influence the cost.
Next follows a head-to-head comparison table of the average costs of CPR classes in Lanham:
| | | | |
| --- | --- | --- | --- |
| | Online | In-person | Blended |
| Adult CPR Class | $37 | $62 | $89 |
| Adult & Infant CPR Class (Pediatric CPR) | $37 | $89 | $117 |
| BLS/CPR for Healthcare workers/professionals | $59 | $84 | $64 |
While enrolling in a CPR class, know that not all of them will teach you how to do mouth-to-mouth resuscitation since it is not considered the go-to CPR technique (chest compressions) and AEDs are. If you're wondering which type of CPR course is best for you, know that all of them come with their own benefits.
Most importantly, you'll learn everything you need to know to help someone regain consciousness, so it's basically about your own comfort — if you're a busy professional, choose the online or blended model; if you have time to spare, sign up for the in-person class.
What to Pay Attention to Considering CPR Certification Classes in Lanham?
If you remember, we mentioned the CPR training providers as one of the factors that affect the cost of CPR certification classes in Lanham. Besides the price, course providers can influence the credibility of the course, too.
In other words, you should avoid taking a class with CPR course providers that aren't accredited by either the American Heart Association, the National Safety Coucil (NSC), or the American Red Cross. We mention these three as the industry leaders, but there are other providers offering certified CPR courses, so keep your options open and find the most suitable option for you.
Even though online classes are an acceptable option for personal CPR training, the majority of employers that require CPR certification will need to see proof that you've attended a course delivered by a trained instructor. So, don't just go for the cheapest option you find.
In addition, if you are enrolling in a CPR class, choose a course that teaches both adult and infant CPR. By doing so, you'll be gaining invaluable life-saving skills that will not only benefit you while pursuing a career as a healthcare employee but also be of tremendous significance if you're a parent.
Another aspect to keep in mind while enrolling in a CPR certification class is the inclusion of materials, study support during the final exam (pilot tests to give you an insight into the real exam), and so on.
In Conclusion: The Average Cost of CPR Certification Classes in Lanham, MD
Knowing how to deliver first aid to someone that's lost consciousness is of utter importance today. In fact, available statistics about out-of-hospital cardiac arrests show that there have been 10,096 sudden cardiac arrests in Maryland each year on average. Now, pair those numbers with the fast-paced everyday life we're living today, and you'll get even greater figures.
Cardiopulmonary resuscitation (CPR) is, without a doubt, the ultimate life-saving technique to use on a victim that has fallen into cardiac arrest in an out-of-hospital scenario. To be able to use it, you'd need to undergo CPR training delivered by an accredited instructor.
What is the average cost of CPR certification classes in Lanham? Online and in-person classes have the lowest price, with regular Adult CPR classes averaging $37-$62 and specialized ones up to $84. Blended courses are always the heftiest due to the level of accommodation they offer, with some going as high as $117, such as Pediatric CPR ones.
In Lanham, you can find a lot of facilities that offer online, in-person, or CPR certification classes through a blended learning model. Whichever type of CPR course you choose, make sure to acquire the needed materials, attend the type of class that suits your schedule the most, and most importantly, choose an accredited training provider. The AHA and American Red Cross are one of the most widely-accepted accreditation facilities, but with a little research, you can find others that'll check all the right boxes, too.