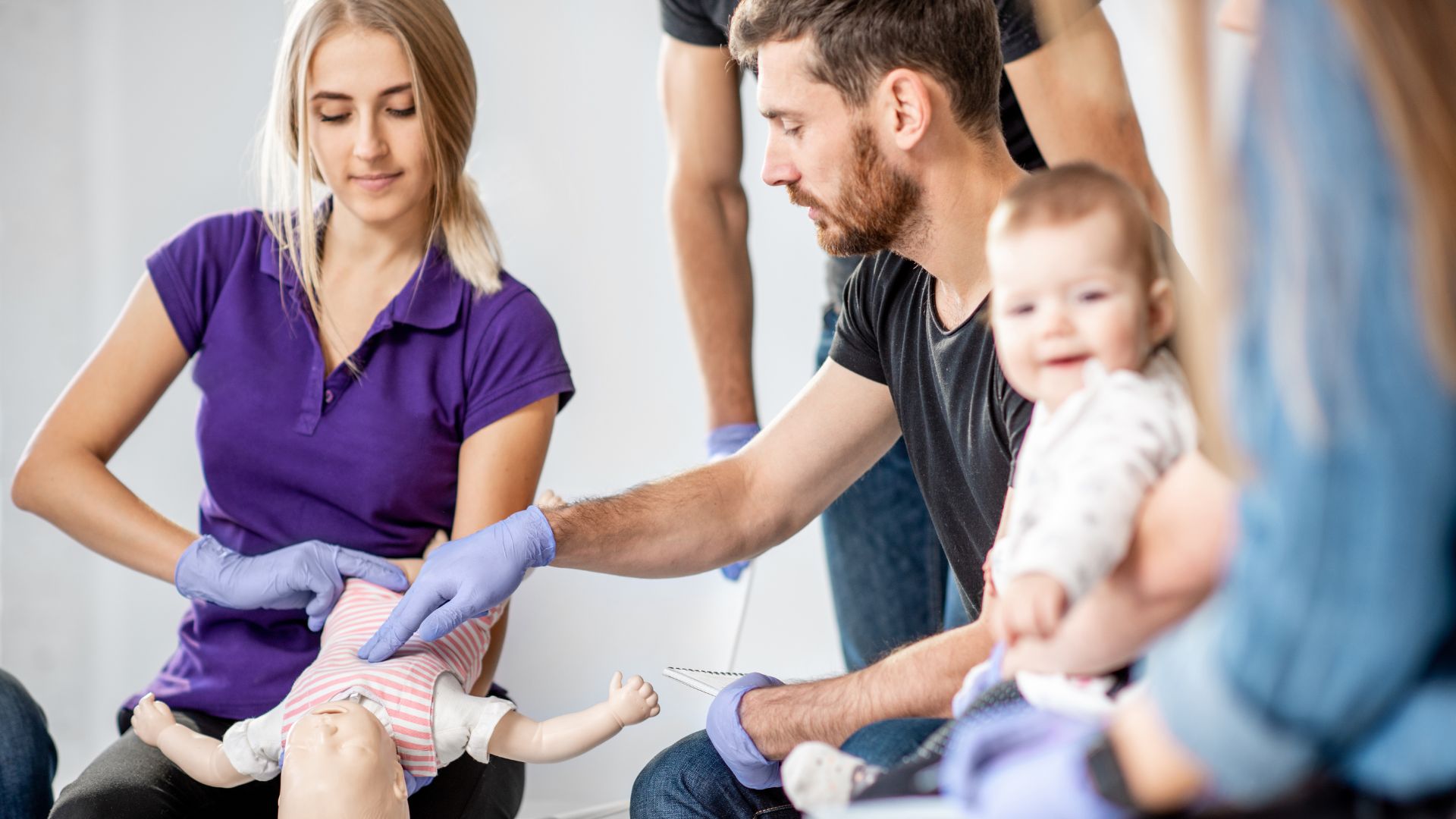 Cardiopulmonary resuscitation is one of the simplest yet most effective life-saving skills you can learn to protect your child from a series of emergencies that can have fatal results!
Even though the technique is simple and you can master it within a few days, CPR for adults and children can differ significantly depending on your child's age and many other factors. That's why many healthcare experts and childcare providers will prompt you to enter CPR certification courses or First Aid training to master the basics and be prepared for the worst.
In this article, we'll delve into infant and child CPR. Learn how to master it by enrolling in CPR certification courses and by getting a licensed and valid CPR certificate!
Infant & Child CPR: What Makes It Different From Other CPR Procedures?
We all know what CPR is – a combination of chest compressions and rescue breaths that bystanders and healthcare providers give to people who have suffered a sudden cardiac arrest (SDCA). However, the infant & child CPR procedures can differ from the standard high-quality CPR in multiple terms.
Let's first delve into the classical adult CPR procedure. The standard adult CPR procedure consists of 30 chest compressions vs. two rescue breaths. The depth of the compressions should be between 2 and 2.5 inches, depending on the person's chest and other physiological factors.
Usually, the child CPR steps stay the same for all children above two years. However, if it's necessary to provide CPR on babies, you'll have to alter the procedure.
For example, if a baby suffers a sudden cardiac arrest, you'll have to use your thumbs – instead of your hands as in the standard CPR procedure – to provide chest compressions. Moreover, you'll have to alter the depth to 1.5 inches. On top of that, you'll have to be careful to provide only 1 second of rescue breaths instead of the 2 seconds of rescue breaths for adults and elderly persons.
CPR Classes: What Will You Be Learning?
Proper parenting and safety of the children and infants should be the number one priority of all parents. Studies conducted in Saudi Arabia have shown how CPR knowledge can significantly increase the survival chances of children with the risk of sudden cardiac arrest and other CPR-mandatory emergencies.
As a parent, you can enroll in self-instruction CPR classes to learn how to act promptly and diminish all the risks associated with Congenital Heart Disease (CHD) and other cardiovascular anomalies.
The following are some aspects of the CPR procedure you'll be learning as a parent in the Pediatric CPR certification course:
In which emergencies you should provide CPR to a child or an infant;
In which emergencies you should avoid providing CPR to a child or an infant;
The proper CPR procedure for children and infants;
How to recognize the various symptoms and how to use an Automated External Defibrillator (AED);
When to use an AED and when to administer CPR;
Why should the nanny or the child caretaker have a valid CPR certificate.
Now, we'll delve into each aspect and see how you'll learn and empower yourself through CPR classes and certification to meet the needs of children in cardiac emergencies.
Infant & Child CPR Emergencies
The CPR certification courses will give you an insight into the various emergencies when you should perform the procedure on your child or an infant. The most common emergency is Sudden Cardiac Arrest. Even though the pediatric population rarely suffers a sudden cardiac arrest, it can happen for multiple reasons, especially as a frequent CHD symptom.
The following are the most common emergencies associated with infant and child CPR, which parents must know to act on time:
Chemical or fire-related severe burns
Anaphylaxis (severe allergic reactions)
At the CPR certification classes for parents, you'll learn more about each emergency and how to react in particular circumstances.
Drowning & CPR Training
Even though the drowning percentage of children aged 0-17 rapidly dropped in the previous ten years, the risk of unintentional drowning is still high! Children still have the highest drowning compared to any other group.
The CPR training will teach you about the various CPR drowning techniques, such as high-quality and hands-only CPR, and in which drowning situation to use them. Once you finish the course, you'll have these life-saving skills and be able to restore the blood and oxygen flow to the drowning victim.
Burns & CPR Training
As part of the parenting and safety program, the licensed CPR certification centers will teach you how to properly administer CPR to children and infants with severe burns, especially third-degree burns.
Cardiac Emergencies & CPR Training
According to the American Heart Association's guidelines, emergency preparedness is crucial! That's why even the Basic First Aid training programs include the CPR methodology applicable to children and infants, especially those with structural cardiac abnormalities.
Additionally, you'll learn about the various emergencies that can lead to the infant or the child's heart failure. Some more common situations that can result in sudden cardiac arrest in children are respiratory failures, severe infections, and traumatic experiences. At the CPR classes for parents, you'll also learn about severe arrhythmias, such as Ventricular Fibrillation and Ventricular Arrhythmias, if a child near you has them.
Anaphylaxis & CPR Training
The incidence of anaphylaxis and other severe allergies in the United States varies between 1 and 761 per 100.000 persons – which is a rather huge number! That's why CPR training can also include the methods for recognizing anaphylaxis and similar allergic reactions – common in infants and children who need immediate treatment!
Choking, Suffocating, Smoke Inhalation & CPR Training
Choking, suffocating, and smoke inhalation can also cause a child or infant to lose consciousness and experience severe neurological impairments in the future. Choking and smoke inhalation can disturb the blood and oxygen flow to the brain and other body parts. That's why choking and suffocating emergencies are a part of every CPR for adults and children program.
Empowering Parents With The AED Skills
Even though most CPR certification courses will teach you how to administer First Aid, Basic Life Support (BLS), and cardiopulmonary resuscitation (CPR), you'll also learn about the Automated External Defibrillation process.
The AED aspects you'll learn during CPR classes are mostly related to Ventricular Fibrillation (VF) and Ventricular Arrhythmia (VA) because these conditions usually require AED. Furthermore, you'll learn the proper recognition of shockable and non-shockable heart rhythms and how to give electrical shocks.
CPR Training: Where, When, and How?
If you'd like to master all the CPR techniques for children and infants, you should first find a licensed and reliable CPR training center. Before applying for a certificate, make sure the CPR training center is licensed and follows a program issued by the American Heart Association or the American Red Cross.
Across the United States, myriads of training centers provide these services, and you can apply online anytime you want. However, there are numerous CPR courses, and you must choose the right one! The best solution is to go for the basic Pediatric CPR & AED course and learn all the specifics about this technique.
Lastly, if you're in the process of hiring a nanny or a caretaker, find one with a pediatric CPR certificate. They should know how to handle risky situations, such as choking, suffocating, anaphylaxis, or sudden cardiac arrest.
Mind that you'll have to renew your certificate and refresh your knowledge every two years. The main reason for these renewal requirements is the ever-new scientific findings and studies related to pediatric CPR and AED issued by the American Heart Association and the American Red Cross, and all reliable training centers must comply.
So you can easily apply and get your renewed certificate online. Parents can also choose between one of the CPR certification learning methods: online, on-site, or the blended learning method.
Final Words
Empowering parents with life-saving skills is essential for the well-being of their children and infants, and there's no better way to empower them than through CPR certification classes. Here, parents will learn how to react in various CPR-related emergencies and how to save children's lives.
Lastly, they master various CPR techniques to help other adults and elderly citizens who have suffered a sudden cardiac arrest or found themselves in any of the given emergencies!